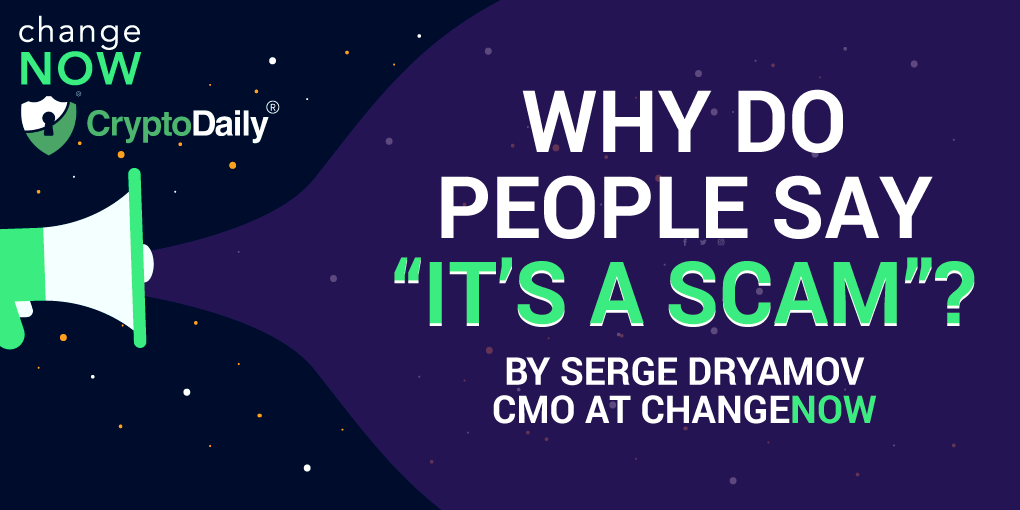 This article was provided by Serge Dryamov, CMO at ChangeNOW
As an exchange that cares about its users and the quality of the service they are providing, ChangeNOW keeps an eye out for negative feedback from its users. Of course, it's nice to be praised and thanked when things go well. However, learning from mistakes and real-life user issues is often more effective and useful. This is why we always check user reviews and do our best to help in any way we can.
The problem we see here is that much of the negative feedback isn't constructive. So many reviews just say one word: "scam". This doesn't give us much information on what we can work on. Other times the issue is described well and we know exactly how to fix it. Then the user doesn't respond to our inquiries and we find them calling ChangeNOW a scam elsewhere without helping the support team to fix their issue.
screenshot from captainaltcoin.com
First of all, what is a scam project? There are certain red flags that may indicate the project has malicious intentions.
Providing financial advice and guaranteeing big profits. When it sounds too good to be true, most of the time it is. Legit service will not give investment advice and honestly warn users about any financial risks.
A new project without an established reputation. Projects that just started operating are often in the risk zone because there is no established trust. They are a bigger "exit scam" risk than projects that have been around for a while.
Impostors and phishers. If you see a well-known service or personality asking you to send funds somewhere to win something – don't believe it. These are usually created by professional scammers who make a living by impersonating other entities.
This is far from an exhaustive list of characteristics of a scam. To underline, a scam project is one that uses false pretenses to gain trust and receive profit from its users. So why do users claim a legit service is a scam in the absence of all these fraudulent traits? Which situations may lead to that conclusion even if the evidence of real fraudulent behavior is absent in the history of the service? Let's discuss some examples by looking into real ChangeNOW cases.
Impersonators and bad actors
If the service is popular and well-established, bad actors can't resist using its reputation to benefit themselves. While our team is always on the lookout and deals with discovered suspicious activity promptly, some individuals may still fall for the false appearances of these scammers. This is why we strongly advise our users to exercise caution when being approached by an account that resembles an official ChangeNOW channel.
Thanks for keeping an eye out! 👁️
We've removed these comments 👏
We hope none of our users fell a victim to this fraudulent scheme.

— ChangeNOW (@ChangeNOW_io) October 27, 2020
Always check the account's validity on the main websites where all official social media channels are linked. Never trust anyone who wants you to send them funds to win more funds – this is a common scam tactic. Exercise common sense and logic. Unfortunately, some users still fall for it and then blame the service that was only used as a cover for the real bad actor. The real support agents will never direct message you first nor will they ask you for sensitive information such as your mnemonics or private keys.
Compliance with KYC/AML requirements
Crypto has a reputation for being the Wild West of fintech. A large portion of the community, the "crypto evangelists", believe that all crypto activities should be anonymous and untraceable. Meanwhile, operating a financial service even in crypto requires companies to comply with rules and regulations in place.
Making sure that all funds are safe is the priority of any crypto exchange. In case of a breach, multiple undesirable things can happen: from fines for failing to comply with policies to unknowingly becoming a participant in money laundering schemes.
screenshot from trustpilot.com
Those who refuse to comply, simply cannot continue using the service because this can lead to a major breach of security and endanger other users' funds as well. This is why before using any financial service, make sure you are able to pass their KYC procedure and that you can be a user of this service. Due to differing crypto regulations in different parts of the world, some services may be available in your country and some may have rules that prohibit providing their service to your country's citizens. It's best to complete KYC verification for your account before depositing any funds into it.
The nature of the crypto project and their transactions
While the exchange or wallet is providing you with a platform to conduct your transactions, they are simply a middle-man for easy access to various crypto coins, tokens, and blockchains. This means that most of the time they cannot control the transaction speed, cost, or other factors that are imposed by the blockchain itself.
In this case, you can still reach out to check or make sure there are no issues with your transaction. However, some users get worried about their funds and express their emotions by calling a service scammy, even though they are just providing the service and can't do anything if the blockchain is experiencing increased volumes or delays. These concerns can be addressed by checking the average times of transactions for the currency used and looking at forums to see if other users are experiencing similar problems. And in a lot of times, being patient is everything a user needs to reach a positive outcome.
Compromised or dishonest projects
While doing everything to keep users safe, it's impossible to predict some events. This is what occurred in May when the Cake wallet was hacked. While it's integrated with ChangeNOW, it's not a part of the company and has a completely separate team and is responsible for its operations. When it was hacked, a lot of users got upset at ChangeNOW and left scathing reviews even though the issue was due to the Cake wallet. Our support team did its best to address user concerns and advise them on how to contact Cake wallet representatives so they can investigate the issue properly. Many users followed the instructions and their funds were safe or they were issued a refund for lost transactions.
Negative emotions motivate stronger than positive ones
Just a little update after two days of mega stress. I did get my $Doge #Doge #dogecoin back from @ChangeNOW_io
it wasn't a scam, seems to be a tech issue, and its sucky but those things happen. ALRIGHT GUYS LETS GO #dogecointoadollar

— DogeByte (@Doge_Byte) January 31, 2021
When people feel like they were treated unfairly or want their case to be processed faster, they tend to use social media to create more commotion and motivate the support team to resolve their issue as soon as possible. The screenshot above shows a user who acted just like many others do when facing an issue: called ChangeNow a scam and claimed that his funds were stolen.
However, when the issue was resolved, he came back to Twitter and explained that he was being overly emotional and the service just experienced a technical issue. The thing is that very few people do that. Most don't follow up on their negative comments or care to remove them once the issue is resolved.
Let us help
When users choose to invest their time and effort in spreading negativity instead of asking for help, it hurts their chances to resolve the issue and achieve a positive outcome. If you are facing any issues, please contact the ChangeNOW support team as soon as possible. Our team members are working hard every day to make sure users have the assistance they need. If any information is unclear or there are any problems, you can always reach out for help or check the Support Center to see what options you may have.
Disclaimer: This article is provided for informational purposes only. It is not offered or intended to be used as legal, tax, investment, financial, or other advice.
Post fetched from this article