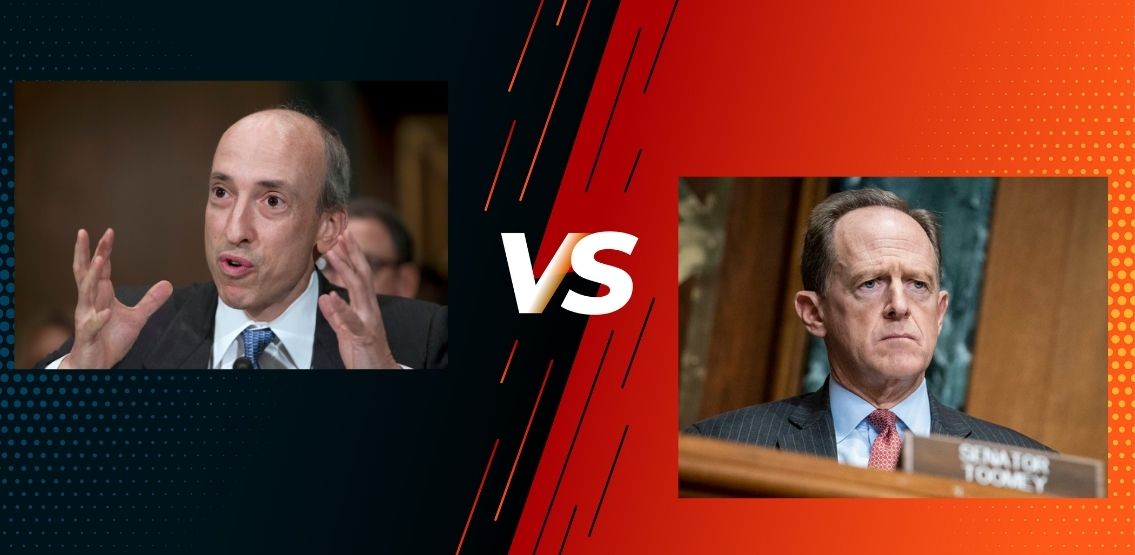 The US Securities and Exchange Commission Chair Gary Gensler and his plans to regulate cryptocurrencies have come under fire from the Republicans. Gensler, on his part, has defended the approach taken by the SEC in enforcing the law against companies that are in the crypto and digital assets space before the Senate Banking Committee.
The Senate Banking Committee
The GOP lawmakers denounced Gensler's and the SEC's approach during an appearance before the Senate Banking Committee, accusing him of stifling innovation and increasing the costs for investors. They also stated that social issues such as climate change and diversity in the workforce are not a part of the SEC's mission.
The criticism is some of the fiercest Gensler has faced since assuming charge of the agency in April and were similar to the criticisms that financial and industrial lobbyists had privately made about President Biden's SEC chief.
Strong Criticism From Republicans
Republican lawmakers did not hold back while criticizing Gensler and his plans to regulate the crypto space. Republican Senator Pat Toomey from Pennsylvania was heavily critical about Gensler's approach and the lack of clear guidelines as to how a digital asset would be considered a security, making it subject to oversight from the SEC.
Toomey also questioned Gensler whether he believes that Stablecoins that maintain their value relative to the US Dollar are securities under the definition used by the Supreme Court to define an investment contract. Gensler did not give a clear response to this, stating that "they may well be securities."
Senator Toomey further added,
"To me, a stablecoin doesn't meet the second prong of the Howey Test, that there has to be an expectation of profits from the investment. If it doesn't meet the Howey Test, it looks to me like it's not a security. Now maybe you've got a good argument for why some are, and some aren't, but…I think we need to have clarity on this. I think we ought to have that publicly, and we certainly shouldn't be taking enforcement action against somebody without having first provided that clarity."
John Kennedy, a Republican from Louisiana, was more direct when attacking Gensler, stating,
"As to the people and the companies that you regulate as chairman of the SEC, do you consider yourself to be their daddy? Why do you impose your personal preferences about cultural issues and social issues on companies, and therefore their customers and their workers?"
Gensler's Argument
Gensler has argued that the US securities laws and federal jurisprudence on the topic of securities provide ample clarity for businesses and entrepreneurs to understand whether their assets or inventions can be classified as a security under the law.
"This Congress could change the laws, but the laws we have right now have a very broad definition of a security. There is a very specific litany of the instruments that constitute securities."
Some Praise For The SEC Chief
Gensler can consider himself safe for now as the Democrats control the White House and the Congress, although by the slimmest of margins. Progressives have also praised him for his efforts to ensure public companies' environmental disclosures and for his criticism of online brokerages such as Robinhood and how they make money by selling retail investors' stock orders to trading firms such as Citadel Securities, Virtu Financial, etc.
Stronger Crypto Regulation
However, Tuesday's hearing offered a brief preview of the type of opposition Gensler could face if the Republicans take control of the Congress, giving him very limited time to complete his list of targets. Among Gensler's top priorities is crypto, which he has often called the wild-west of the financial world.
Last week, Coinbase disclosed that the SEC had threatened that it would sue if the exchange launched a product that would enable its clients to earn interest by lending their coins to other traders. Gensler also revealed that the SEC was close to releasing a report that analyzed the trading that occurred in January with GameStop and other companies.
The SEC has repeatedly called for greater regulation of the Crypto space, with SEC Chair Gary Gensler stating that cryptocurrency trading platforms needed regulation to survive. Gensler has received backing from Senator Elizabeth Warren in his bid to call for stricter regulations. Gensler has also proposed brokers or intermediaries between crypto platforms and the public. Critics have been quick to point out that this is something that defeats the entire purpose of crypto that wants to avoid intermediaries who are plenty in the traditional financial system.
Disclaimer: This article is provided for informational purposes only. It is not offered or intended to be used as legal, tax, investment, financial, or other advice.
Post fetched from this article