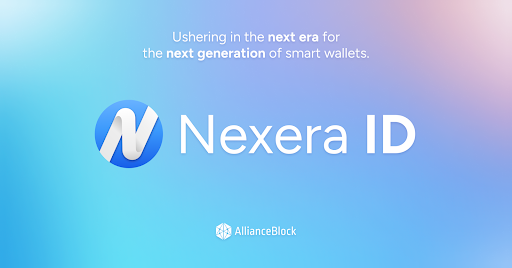 Cryptocurrency and DeFi users now have a better way to protect their identities and ensure they won't lose access to their crypto assets, and it's all thanks to a new, self-sovereign identity solution called Nexera ID.
Announced today by the DeFi ecosystem provider AllianceBlock, Nexera ID is a non-custodial solution that enables users to create a "programmable smart wallet" that relies on multi-factor authentication, as opposed to private keys. With it, users can store verifiable identity credentials on the blockchain that can be used to access any kind of Web3 service. The solution works by using a technique known as "zero-knowledge proofs", which allows users to prove that they are who they say they are, without giving up any personal information.
For those scratching their heads wondering how this is possible, it's actually fairly simple. With Nexera ID, individuals can undergo a KYC check just one, or businesses can verify themselves via KYB with a single provider. After doing this, the user creates a verifiable credential that safeguards their identity while simultaneously satisfying the verification requirements of any Web3 service. It basically provides a way for crypto users to say, yes I have been verified, by someone else, and here is the proof. For Web3 businesses, it promises to be an ideal tool for onboarding thousands of privacy-minded users.
What's really good about Nexera ID is its flexibility, being able to integrate with any wallet, be it custodial or non-custodial. It means users can sign up to almost any service with their preferred wallet, while retaining control of their private data.
Nexera ID is based on open-source trustless identity verification (TIDV) technology that provides a number of other key benefits that are likely going to become essential if the world of decentralized finance is ever to take off. One of the reasons why DeFi remains a niche industry is that self-custody of digital assets remains a major headache. In 2021, more than $14 billion worth of cryptocurrency was stolen through hacks, and millions of dollars more have been lost as a result of mismanagement of users' funds. The most recent example of the latter was the collapse of the FTX cryptocurrency exchange, which suddenly declared bankruptcy, leaving thousands of users unable to withdraw their funds from the platform.
The FTX disaster once again shined the spotlight on the dangers of so-called "custodial wallets", where users don't manage the private keys to access them. Not your keys, not your funds, or so the mantra goes. The only way users can ensure they'll always be able to access their funds is with the use of a non-custodial wallet, but doing this means the onus is on the users to safely store their private keys. Doing so is a big responsibility, however, and there have been numerous instances that have hit the headlines, where people have lost access to millions of dollar's worth of funds after misplacing their private key.
Nexera ID offers an interesting solution to this conundrum, with a slick and easy-to-use interface that enables users to set up access to their wallet using more familiar login credentials such as email, facial recognition and social logins. Using multi-factor authentication, users can also set up their own recovery mechanisms to regain access to their wallet, in the event they misplace their private key.
The capabilities of Nexera ID therefore solve a number of key problems that AllianceBlock says are holding back user adoption in crypto and the wider Web3 space. It provides a simple solution to login to a range of Web3 dApps using familiar credentials, a way for users to protect their identity, and most importantly a simple method for recovering crypto assets.
AllianceBlock CEO Rachid Ajaja said Nexera ID's technology will prove to be "revolutionary" for the crypto industry. "With Nexera ID, we are ushering in the next era of self-sovereignty, self-custody, security of digital assets and protecting users' privacy," he said.
Nexera ID is just the first of a number of promised solutions built by Nexera and AllianceBlock, with others targeting areas such as blockchain gaming and automated trading strategies for DeFi users set to arrive in the near future.
Disclaimer: This article is provided for informational purposes only. It is not offered or intended to be used as legal, tax, investment, financial, or other advice
Post fetched from this article