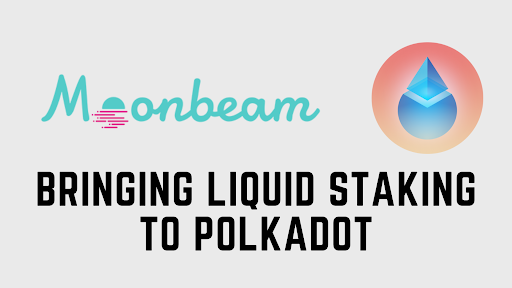 Moonbeam, the Ethereum blockchain-compatible smart contract platform built on Polkadot, reveals that it will be integrating with and working closely with Lido, one of the largest liquid staking derivatives protocols, which is live on Ethereum and Terra.
According to the announcement, the collaboration will be driven by MixBytes, which was chosen by the Lido DAO to take care of the technical integration for the Polkadot ecosystem. This integration will bring liquid staking to Moonriver and Moonbeam, and it will also offer DOT holders the opportunity to stake their crypto-assets while being able to access the liquidity of that staked position.
The launch of Lido aims to offer an important building block for the fast-evolving DeFi ecosystem on Moonbeam, offering a way for digital token holders to effectively utilize and leverage their Polkadot ecosystem assets.
Lido to Offer Staking Solutions to Solana, Terra
Governed by the Lido DAO (distributed autonomous organization), Lido has become one of the biggest and most frequently-used liquid staking protocols globally. With its foundation based on Ethereum staking, Lido is beginning to expand to offer liquid staking solutions to various other protocols like Terra and Solana.
For their ongoing expansion to Polkadot, Lido chose Moonbeam to offer the parachain infrastructure and cross-chain integrations, since its Ethereum-compatible smart contract capability enables Lido to use Ethereum tools and source code to get to market a lot faster.
Misha Putyatin, CEO at MixBytes, noted that after examining different parachain partners and implementations including developing an independently-functioning parachain, they were quite impressed by the Moonbeam team and their "ambitions."
Misha added that Moonbeam satisfies their technical requirements with its EVM smart contracts, cross-chain integration functionality and support of their protocol-level dependencies via their DeFi ecosystem which includes stableswap AMMs, lending and borrowing, and other protocols that Lido requires.
Additionally, Lido offers a critical capability for Moonbeam's fast-evolving DeFi ecosystem. A primary motivation for project teams launching on Moonbeam is to have the ability to natively serve DOT as an asset.
By offering DOT holders with access to a parachain-enabled liquid staking derivative, DOT holders don't have to select between staking yield on the Relay Chain and DeFi yield positions on Moonbeam.
Liquid Staking Derivatives to Increase Asset Volume on Moonbeam
Liquid staking derivatives are expected to substantially increase the volume of assets being channeled into Moonbeam, and lead to more TVL (or total value locked) and key opportunities for transaction growth for DeFi solutions launched on Moonbeam.
Liquid staking derivatives may be considered an important component for facilitating the growth of the DeFi ecosystem on Moonbeam and Polkadot, according to Derek Yoo, Founder of Moonbeam.
He added that since they first met, they've been impressed by the Lido team's technical expertise, extensive domain knowledge, and the "market traction" of their protocol. He also noted that they're looking forward to working with them in order to bring stDOT and various other staking derivatives to the Polkadot ecosystem.
The Lido and Moonbeam technical teams are working cooperatively to provide an initial liquid staking implementation on Moonriver, which is the Kusama-powered sister network of Moonbeam. This integration should serve as a use case for the Polkadot-native cross-chain messaging protocol (XCMP), which may offer access to KSM and relay chain staking capability from the Moonriver-powered EVM environment.
Lido is set to launch on Moonriver in the coming months. After it has proven itself on Moonriver, the XCMP-enabled integrations and Lido protocol may be launched on Moonbeam in order to serve DOT.
Background on Moonbeam Network
Moonbeam is an Ethereum blockchain-compatible smart contract platform developed on the Polkadot network that allows software engineers to create natively interoperable apps.
This Ethereum compatibility enables programmers to deploy their existing Solidity smart contracts and DApp frontends to Moonbeam without having to make major codebase modifications. As a parachain on the Polkadot network, Moonbeam should be able to benefit from the shared security of the Polkadot relay chain and integrations with various other blockchains that are linked up with Polkadot. Presently in active development by PureStake, Moonbeam is set for MainNet release by Q3-2021.
Background on Lido
Lido is a distributed autonomous organization or DAO that creates and maintains decentralized liquid staking protocols. At present, Lido holds #8 of all DeFi by TVL ($5 billion) or 86% market domination on Ethereum which means it currently ranks among the industry leaders in the liquid staking space.
About MixBytes
MixBytes is a team of software engineers, auditors and professional analysts, who are experienced in decentralized systems and blockchain or distributed ledger technology (DLT). They design and implement various solutions based on established blockchains and frameworks: Ethereum\Polkadot\EOS.
They develop runtime modules and smart contracts, consensus algorithms and network governance. They're also well-known for being a leading smart contracts auditing company with a solid reputation, trusted by customers such as Aave, Yearn finance, Curve, 1inch, Lido, among others.
Disclaimer: This article is provided for informational purposes only. It is not offered or intended to be used as legal, tax, investment, financial, or other advice.
Post fetched from this article