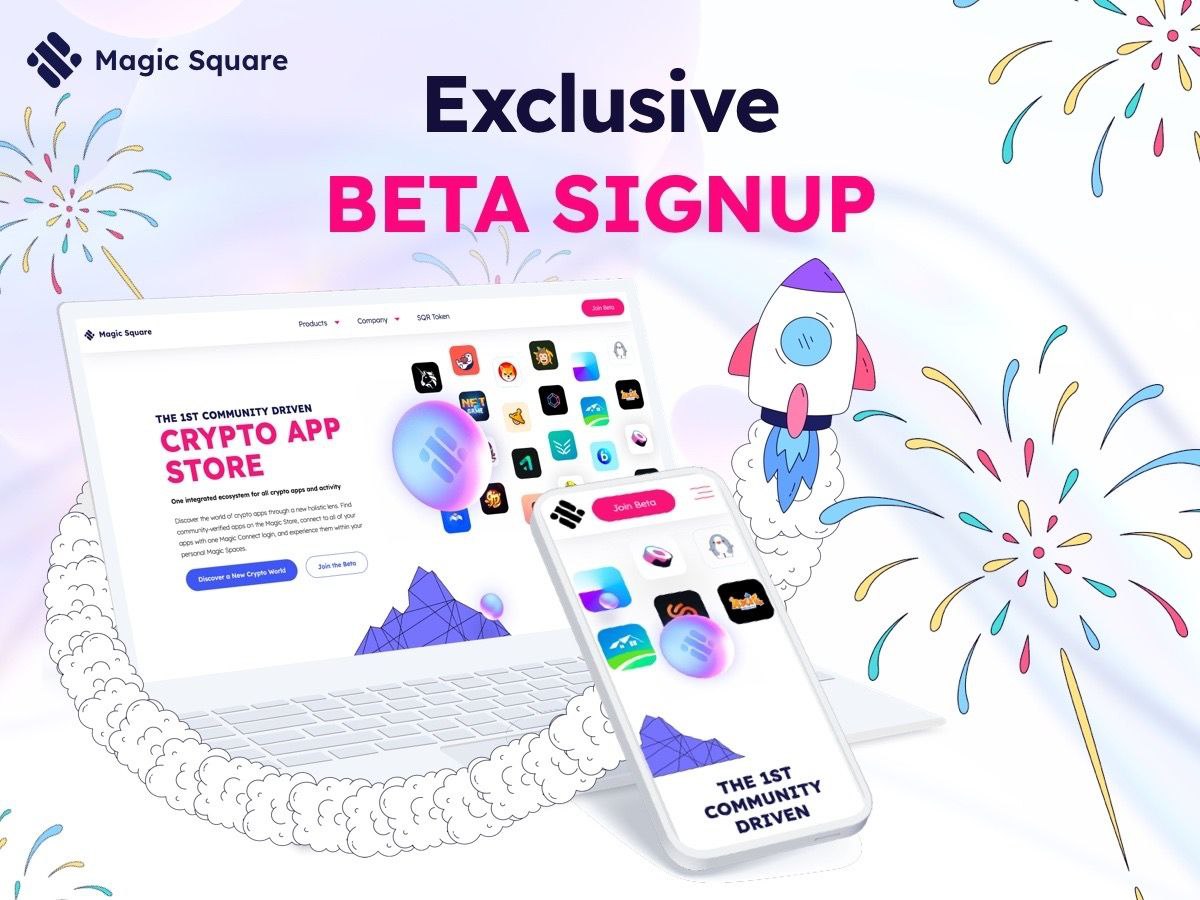 Magic Square is thrilled to share the news that users can now sign up for the beta launch waiting list. To celebrate this occasion, Magic Square's Beta launch waitlist campaign includes a big prize pool and freebies for everyone who joins. All participants receive free $SQR tokens to spend in the store on dApps and to customize their unique space. In addition, everyone receives a one-year Premium Magic Square membership for free.
Sign up to Magic Square Beta Launch Waiting List
Magic Square goes all out to mark their Beta launch waitlist campaign. Being the world's first community-driven multi-chain crypto app store is a big achievement for the team and the cryptocurrency community. Magic Square is a platform that has never existed before and has the potential to connect millions of people to the wonderful world of dApps.
Other advantages and benefits of joining the Magic Square beta launch waiting list include:
Through the Magic Square NFT-drop promotion, you may win up to $1,000 in NFTs
Participation in the bounty campaign with a prize pool of up to $250,000
Staking payouts will be increased for all beta participants
There are just a few spots available on the Magic Square beta launch waiting list, so act quickly!
Magic Square Users
Users who stake $SQR tokens, have the option of either becoming validators or delegating their staking to validators. Both selections will give you user rewards. To apply for a validator position, you must stake 50,000 $SQR and complete a qualifying test to demonstrate your dependability. A validator will be rewarded for their efforts in validating every application submitted to the Magic Store.
Magic Square is a platform for all sorts of crypto enthusiasts, including investors, dApp users, developers, and traders. The ability to access a one-stop shop for dApps across any blockchain and receive $SQR incentives for testing applications, gives an interesting motivation to go further into the crypto and blockchain ecosystem.
Magic Square Creators
The Magic Square ecosystem enables the quick development and distribution of dApps to a growing developer community. The Magic SDK also enables developers to integrate useful services into their dApps. Furthermore, it is interoperable with the majority of standard programming languages, eliminating the need to learn a new language from the ground up.
When interacting with the Magic Store, anyone may personalize their user experience by using the Magic Spaces feature. This feature eliminates the need to switch between websites and a dApp. Everything is accessible through the same trusted and optimized user interface.
It would be a waste to give up free goodies, so be sure to check out the Beta launch waitlist campaign!
Join the Magic Square beta waiting list now, there are limited spots available.
About Magic Square
Magic Square is the first crypto app store, providing a new level of trust and usability to the crypto industry by the integration of community-vetted crypto applications, NFTs, DeFi solutions into Magic Store apps and GameFi.
Magic Square will enable simpler and faster worldwide adoption of blockchain technology by uniting Creators who will create top-tier crypto applications and widgets using Magic SDK and a Community that will curate the crypto apps that will be offered on the Magic Store.
Disclaimer: This article is provided for informational purposes only. It is not offered or intended to be used as legal, tax, investment, financial, or other advice.
Post fetched from this article