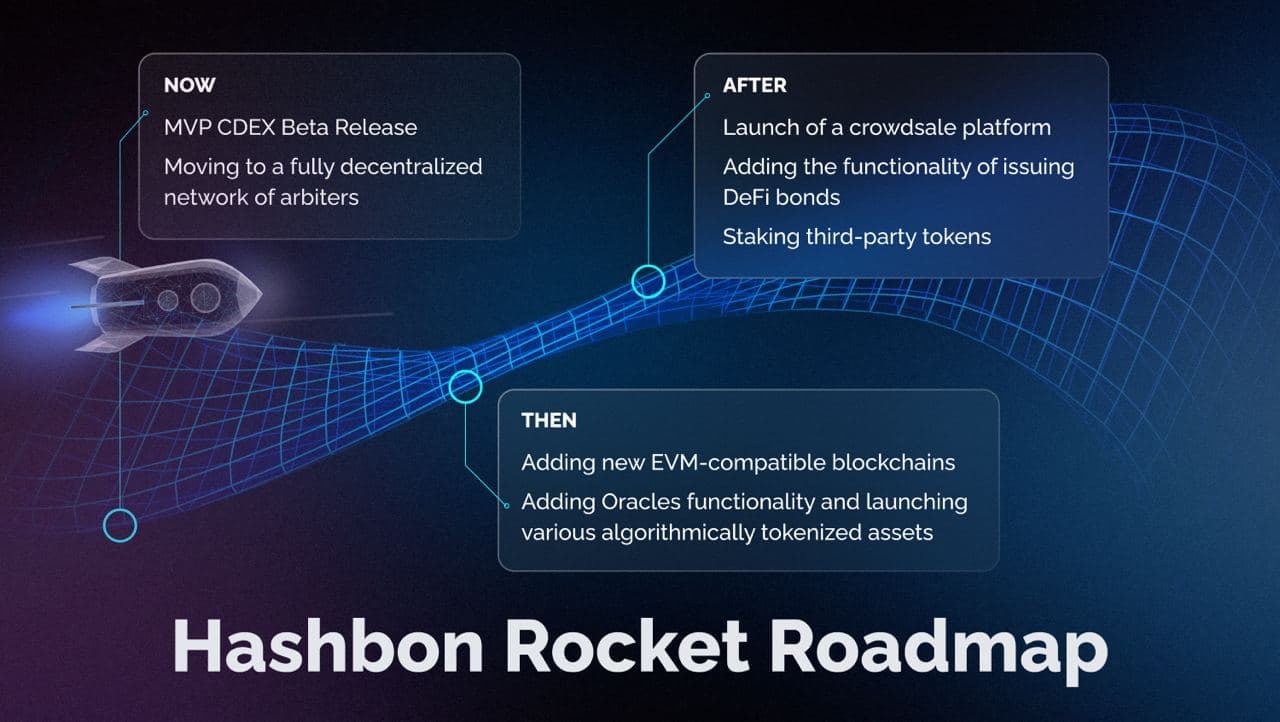 Crypto payment service Hashbon is making a foray into the decentralized finance (DeFi) sector with the launch of its decentralized cross-chain token exchange.
The product, known as Hashbon Rocket, will facilitate the exchange of any ERC-20 token to BEP-20 versions and vice versa. The Rocket CDEX MVP has been scheduled to launch on September 9. That being said, interested individuals can enjoy an early-bird pass to the HASH token by participating in a pre-sale round. The private and public sale will be held in five stages and is expected to last until November 4, 2021.
Speaking of the product, the Hashbon Rocket platform touts itself as the first-ever cross-chain decentralized exchange (CDEX). While existing decentralized exchanges such as Uniswap and PancakeSwap operate within the confines of their underlying blockchains, Hashbon's Rocket is looking to build a truly decentralized cross-chain exchange that would allow users to swap tokens across a plethora of blockchains.
For a start, Hashbon Rocket will enable the exchange of tokens between Ethereum and the Binance Smart Chain. Plans are on the way to expand to other EVM-compatible networks, including Ethereum Classic, Matic, Fantom, and Huobi Eco, amongst others.
Hashbon's solution is hinged on three primary focal points. As already mentioned, the first step is a DEX for swapping any ERC-20 token to a BEP-20 token and vice versa. Secondly, the protocol features a decentralized network of arbiters, and finally, a state-of-the-art solution for cross-chain swaps.
Swap fairness is ensured by the network of arbiters, aka HASH token holders. Arbiters perform a number of functions within the ecosystem, including running nodes and voting using smart contracts. Hashbon Rocket employs a proof-of-stake (PoS) consensus mechanism where token holders are allowed to make critical decisions based on the share of their HASH tokens. Consequently, token holders with a significant percentage of shares will enjoy higher rewards for a correct response and on the flip side higher penalties for an incorrect vote. Commenting on the future of the project, Grigory Bibaev, the CEO and Founder of Hashbon, said:
"Cross-chain exchange between EVM-compatible blockchains is just the first step. In the future, we see Hashbon Rocket as a multifunctional DeFi platform that provides a variety of services from DeFi bonds for corporations to lending and staking."
The entire ecosystem is held together by the HASH token. HASH is a utility token that is compliant with both ERC-20 and BEP-20 token standards on Ethereum and Binance Smart Chain, respectively. The token empowers various system participants. For instance, liquidity providers pay commissions to arbiters with HASH tokens when conducting transactions on the network. Similarly, the same tokens provide arbiters with voting power for approving transactions and submitting proposals on Hashbon. Furthermore, participants who wish to launch a crowd sale or issue DeFi bonds do so with HASH tokens.
The HASH token address can be tracked on both EtherScan and BscScan using the address: 0xeb1112ac78d537853150e2a07e8b765e29d3f019.
About Hashbon
Hashbon was founded in 2016 to offer a modern, user-friendly, and secure payment solution to individuals and businesses who wish to accept digital assets. In 2021, a variety of CeFi products and upcoming DeFi platform were united to Hashbon FiRe ecosystem fuelled by HASH token. FiRe for "Finance Reinvented" became Hashbon's mission and moto appealing to all crypto enthusiasts and community craving for a new era of blockchain and decentralized finance development.
Disclaimer: This article is provided for informational purposes only. It is not offered or intended to be used as legal, tax, investment, financial, or other advice.
Post fetched from this article