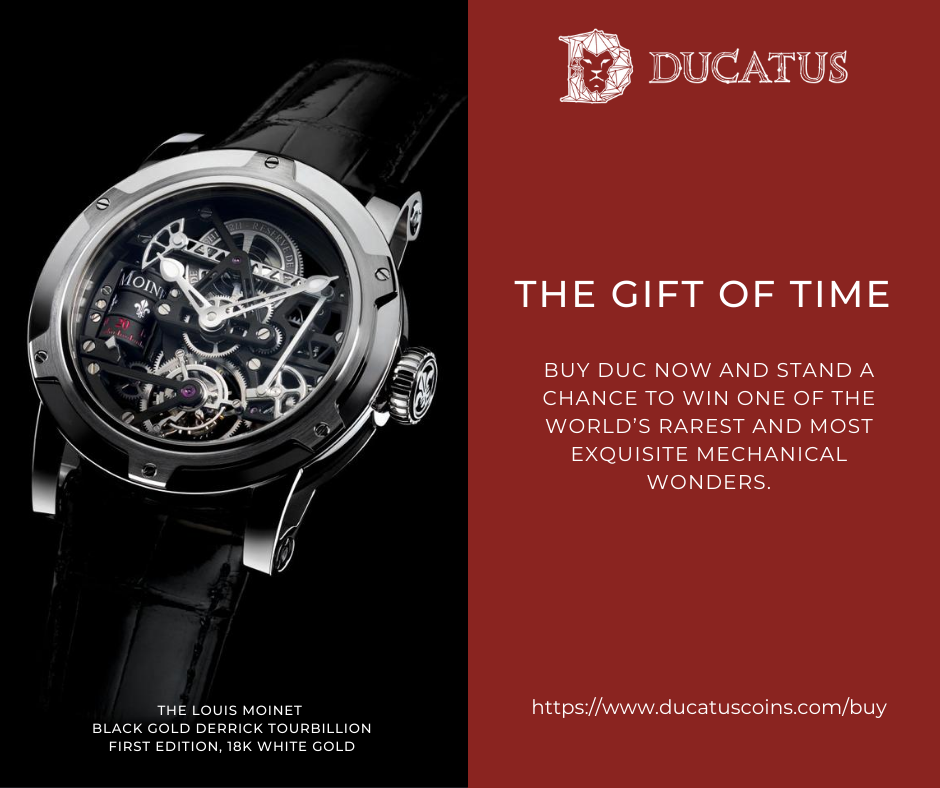 A timepiece inspired by the redolent world of oil, whose entire movement represents the drilling process, the Louis Moinet Black Gold Derrick Tourbillion is bold, exquisite and symbolic of a wealth of opportunities.
Can something this rare be attainable by anyone? Yes… With Ducatus.
The world's first-ever incarnation of this 18k white gold watch, currently valued at $329,000 is being given away to one extremely lucky DUC buyer. And that lucky one could be you. All you have to do is buy a minimum $10 worth of DUC to gain 1 entry. Buy a little more and get multiple chances of winning. Purchases made before 8 August 2020 entitles buyers to additional Ducatus DSV (Digital Shopping Voucher), redeemable on the Ducatus eCommerce site Remus Nation, and a shopping discount voucher for D-Shop of up to 34%.
If you are new to Ducatus, you can start by downloading the Ducatus Wallet for your preferred device or create a web wallet via https://wallets.ducatus.io. The multi-currency Ducatus Wallet allows you to store not only DUC and the Ducatus Token (DUCX), it also lets you enjoy the added convenience of buying BTC, ETH and USDC using your credit card.
The Ducatus Coin or DUC was first introduced to the world in 2017. A cryptocurrency designed for everyday living, over 1.3 billion DUC is now distributed within its partner network in more than 180 countries worldwide. It is championed by a global Ducatus community who believes in Ducatus' vision for a thriving cashless future. A hard fork of Litecoin, it is supported by a group of affiliate businesses that accept DUC and other forms of cashless payments, among these businesses are Singapore's first cashless crypto café Ducatus Café (Singapore, Bali, Switzerland), Ducatus Property, Ducatus Travel, Ducatus Ministry of Beds (D-MOB) in Bali and more. DUC is also accepted by a forward-thinking group of Ducatus Merchants who believe in the opportunities that the cashless financial exchange brings.
Enjoy all the opportunities that the Ducatus Community brings. Don't waste precious time, buy DUC Now!
https://www.ducatuscoins.com/buy
Join the Ducatus Cashless Revolution
About the Ducatus Group
Connect with Ducatus on Facebook
Follow Ducatus on Twitter
Contact Ducatus via
Post fetched from this article