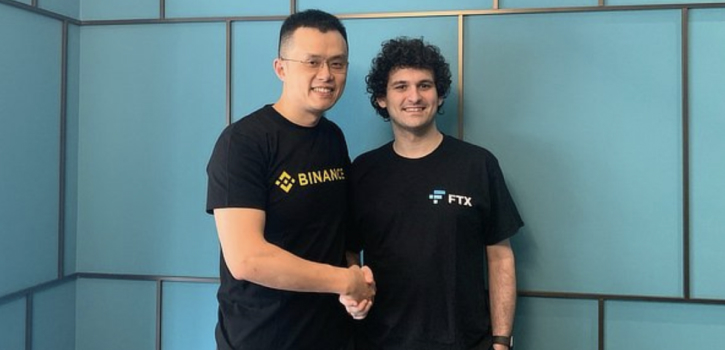 A torrid day in the cryptocurrency market was brought to an earth-shattering halt as Sam Bankman-Fried agreed to sell FTX to CZ's Binance.
Things had taken a dark turn as it looked increasingly like Sam Bankman-Fried's FTX exchange would be going to the wall in what looked like an implosion every bit as shocking and damaging as the Luna melt down.
The price of $FTT, the FTX exchange token, after breaking the important $22 support, had reached a huge buy wall at $14 dollars, and it only looked to be a matter of time before the price broke through and continued downward.
All seemed lost. The whole crypto market was deep in the red and Bitcoin was leading the way down, getting as far as $19,200. However, out of the blue the market turned in spectacular fashion, and within an hour and a half Bitcoin was touching $20,700.
CZ, CEO of Binance, tweeted the news that Sam Bankman-Fried had agreed to sell him the FTX exchange once all due diligence had been completed over the coming days.
This afternoon, FTX asked for our help. There is a significant liquidity crunch. To protect users, we signed a non-binding LOI, intending to fully acquire https://t.co/BGtFlCmLXB and help cover the liquidity crunch. We will be conducting a full DD in the coming days.
— CZ 🔶 Binance (@cz_binance) November 8, 2022
This tweet was followed minutes later by Sam Bankman-Fried's statement on the situation. The CEO of FTX had obviously seen the writing on the wall and rather than see his exchange go to zero, taking the entire crypto market down with it, he decided to throw in the towel and go cap in hand to CZ.
1) Hey all: I have a few announcements to make.Things have come full circle, and https://t.co/DWPOotRHcX's first, and last, investors are the same: we have come to an agreement on a strategic transaction with Binance for https://t.co/DWPOotRHcX (pending DD etc.).
— SBF (@SBF_FTX) November 8, 2022
In another tweet Bankman-Fried was keen to give all credit to CZ, and looked to be healing the rift between him and the Binance boss, saying:
"I know that there have been rumors in media of conflict between our two exchanges, however Binance has shown time and again that they are committed to a more decentralized global economy while working to improve industry relations with regulators. We are in the best of hands."
The move has certainly done much to calm the crypto market. However, volatility is still high and after BTC managed to get back into the green, it is now at time of going to press 2% down on the day.
Disclaimer: This article is provided for informational purposes only. It is not offered or intended to be used as legal, tax, investment, financial, or other advice.
Post fetched from this article