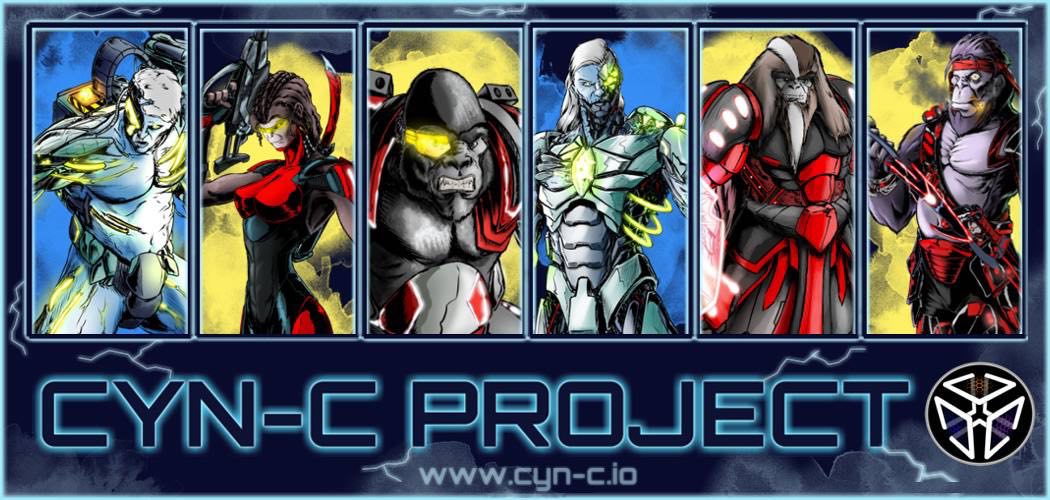 What do Comics, Video Games, NFTs, and Crypto all have in common? One simple thing; they bring together people with similar interests from across the globe. Everywhere on earth you will find people who like Batman, Avengers, Call of Duty, Fortnite, and the like; the same can be said for Crypto and NFTs, you will meet people on Discord and Telegram in places 15 hours ahead of where you live, yet you both find yourselves dedicating your money and time to the same project. The fact is, these are all global phenomena, and the goal of Cyn-C is to unite these phenomena under one roof: The Cynverse.
Cyn-C is a project that wears many faces. Central to the project is our housemade Comic, Cyn-Chronicles. This Comic, available on Opensea, sets the stage for our characters, lore, story, and direction of Cyn. Featuring 6 factions with 30 fully fleshed out characters, there is someone for everyone to find kinship with; from the silent assassin to the boisterous heavy gunner, the different characters span archetypes from various games, comics, anime, novels, you name it.
How do NFTs and Crypto incorporate into this vision, you may then ask? For starters, we have our Cyn-Champions. These are trading card NFTs purchasable on Opensea that can be used to battle others in our Discord-based mini-game, The Cynoseum. Through a combination of traditional battles, wagers, and tournaments, playing and claiming daily rewards will net you Cyn-Cash, a Discord currency that may be redeemed for various rewards, including but not limited to — our CYNC NFTs.
CYNC NFTs, also available now on OpenSea, represent the various characters in the Cynverse, offering three different tiers spanning three editions: rare, epic, and legendary. The entire first edition is expected to be released within the coming months, with the second and third installments releasing in years two and three respectively. Each of these NFTs can be staked on our upcoming platform CynSwap, earning consistent passive income in the form of Cyn-Coin. Cyn-Coin, or CYNC for short, is the central currency to our project, available today on either Uniswap or Shibaswap and purchasable with Ethereum. Specific details on the token can be found further in our Whitepaper, however, know that it features a rather low 4% taxation, 2% of which being returned to all Cyn-Coin holders in the form of a reflection.
CynSwap will house multiple different aspects. Following a successful audit from Certik, Cyn-Coin holders and CYNC NFT owners alike will be able to take advantage of numerous benefits, including the above-mentioned staking, swap fee rewards for those providing liquidity to the CYNC-ETH pool (bonuses if you have an NFT staked as well!), and general swap functions. Joining CynSwap with the release of the second edition of CYNC NFTs in year two will be the CynMarketplace, where all our NFTs will be purchasable going forward, only with Cyn-Coin.
The end goal is to incorporate the Cynverse, including every character and setting, as well as Cyn-Coin and a new token, Cyn-Credits, into a fully developed intense roamable PvP game. This is in the visionary stage currently, but nonetheless, the framework is there; look to see more on this at our planned Comic-Con attendance at some point in the coming years. To conclude, Cyn-C Project offers something for everyone; and that was precisely our intended goal when setting out on this quest. We all have different tastes and flavors, but comics and games are something everyone can find solace in; select from one of our diverse characters, follow their story, and join the Cyn-Community today!
Join our Discord: https://discord.gg/Ah2P5SnCZT
Follow us on Twitter: https://twitter.com/cyncproject?s=21
Disclaimer: This is a sponsored press release, and is for informational purposes only. It does not reflect the views of Crypto Daily, nor is it intended to be used as legal, tax, investment, or financial advice
Post fetched from this article