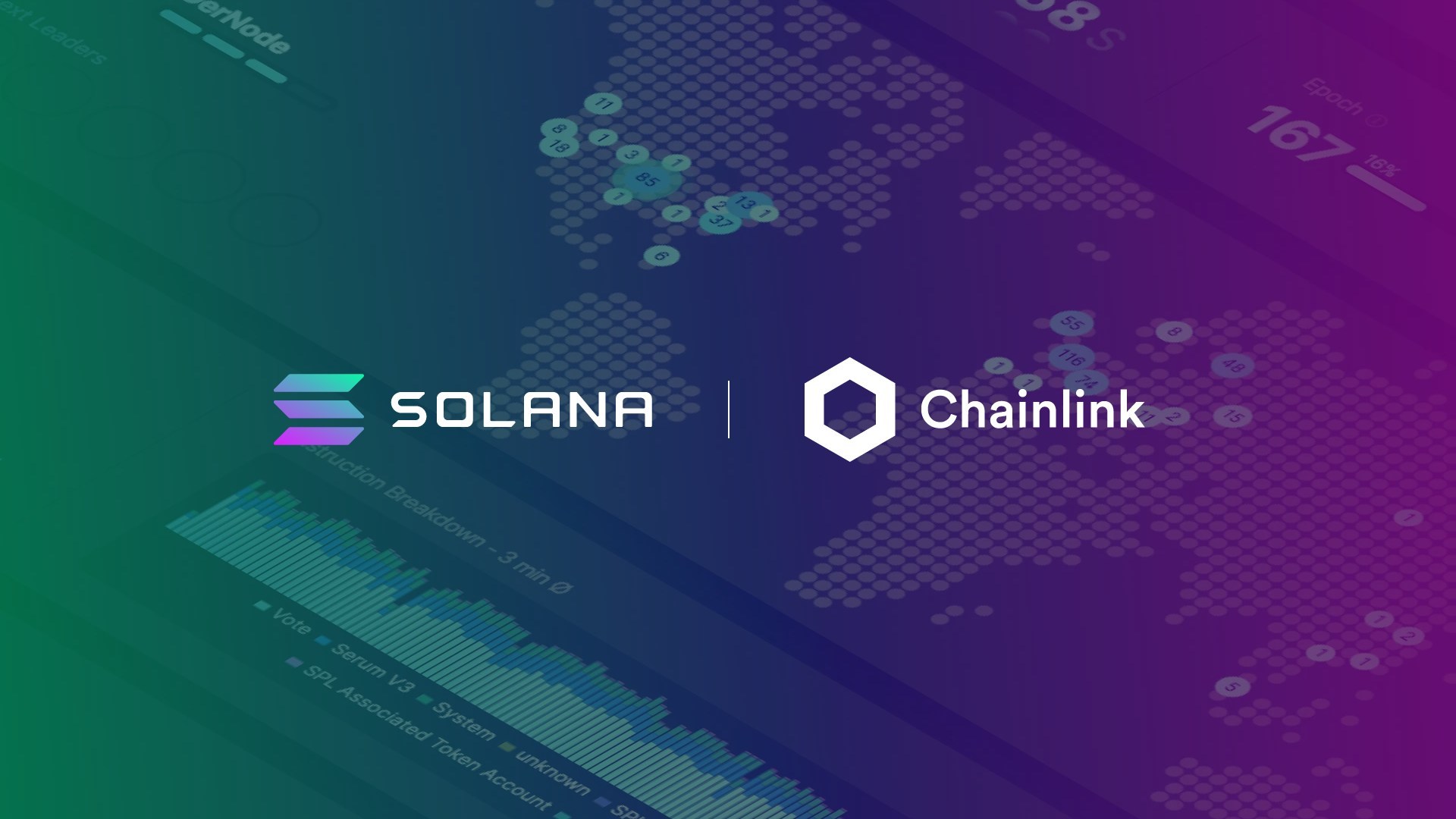 Chainlink, an oracle network powering hybrid smart contracts, has partnered with Solana, a high-performance decentralized blockchain.The partnership has enabled Chainlink's Price Feeds oracle system for decentralized finance (DeFi) to be launched live on the Solana Devnet at sub-second updates. Chainlink says that it has planned mainnet integration for the oracle before the end of Q4. According to Chainlink, the integration was a result of months of close collaboration between Solana Labs and Chainlink's development team.Chainlink Price Feeds serves billions of dollars worth of transactions across the DeFi ecosystem, providing leverage to a wide network of professional nodes and institutional-grade benchmark providers. This generates global market-representative prices with robust coverage and multiple layers of decentralized security to ensure precision, uptime, and tamper-resistance, even during periods of extreme market volatility.
"Integrating Chainlink natively into the Solana blockchain can significantly increase the rate at which Solana developers can build secure, high-throughput DeFi applications by providing them with direct access to reliable off-chain data and computation. The combination of high-quality oracle infrastructure and Solana's high-speed blockchain network can enable DeFi applications to scale to a global level." shared Solana Labs co-founder and CEO Anatoly Yakovenko.
With the launch of Chainlink Price Feeds, developers on Solana can now leverage the oracle for highly decentralized, high-quality, and fast-updating price reference data, enabling them to build a wide variety of hybrid smart contract applications for the decentralized finance sector.
Chainlink Price Feeds has comprehensively aggregated data from sub-second data and analytics providers such as Coin Metrics, Cryptocompare, NCFX, Tiingo, and dxFeed, among others. The price feeds cover both crypto and traditional assets available for the public.
Chainlink now provides sub-second speeds on-chain without compromising on both quality and security because of its integration with Solana's high-performance blockchain. Solana will support up to 65,000 transactions per second and diminished per-transaction fees. This addition of the Chainlink Price Feeds will bring decentralized finance development to a rapid phase to compete with centralized finance trade execution and risk management quality.
"With Chainlink Price Feeds providing sub-second updates on the Solana blockchain, smart contract developers will have the proven oracle infrastructure they need to build high-speed and tamper-proof DeFi applications. We are excited to be supporting the growth of the Solana ecosystem through oracle networks that provide end-to-end decentralization, data accuracy, and a wide range of secure off-chain services." shared Chainlink co-founder Sergey Nazarov.
Developers who will use the Chainlink Price Feeds on Solana will be able to leverage the high-performance data feeds from it and launch next-gen dApps to users of the Solana ecosystem. Chainlink Price Feeds offers low-latency updates with relevant aggregated prices with the use of a robust framework for source aggregation, suspicious volume detection, and decentralized computation. The combination of these two technologies will power decentralized finance into the future.Disclaimer: This article is provided for informational purposes only. It is not offered or intended to be used as legal, tax, investment, financial, or other advice.
Post fetched from this article