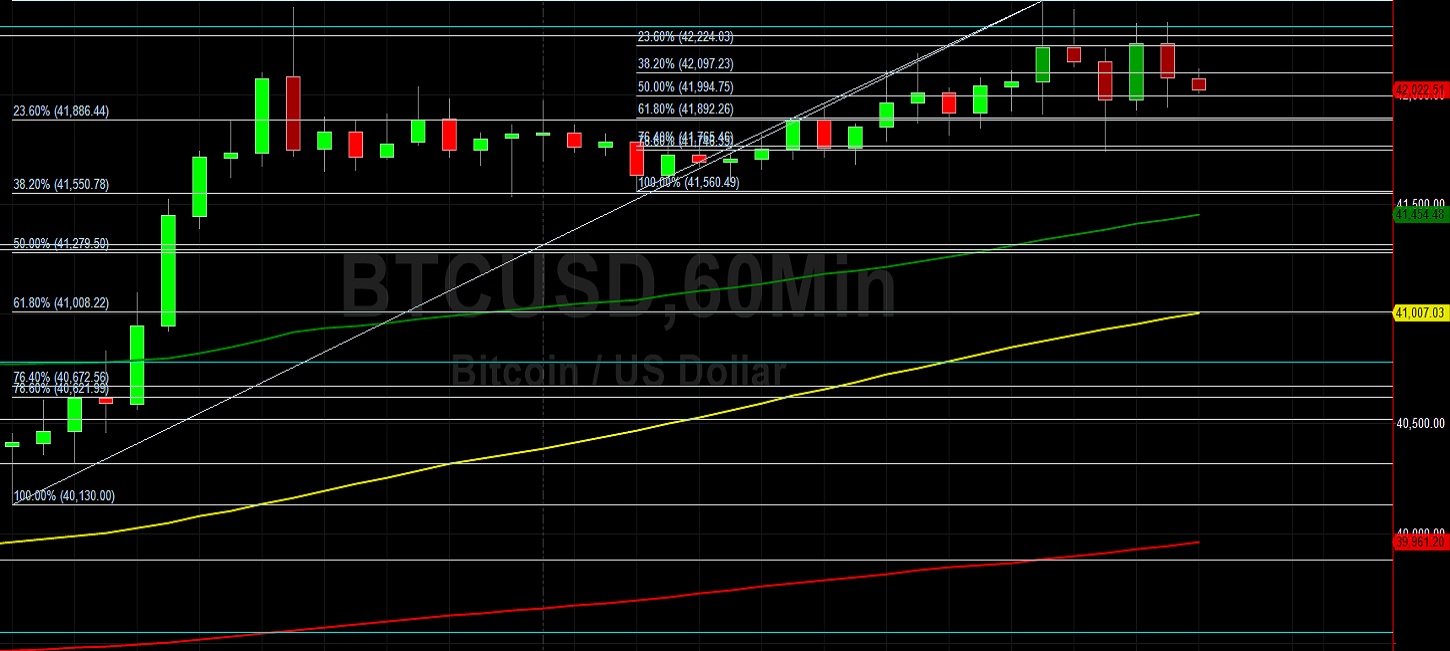 Bitcoin (BTC/USD) continued its steady glide higher early in the Asian session as the pair reached the 42429 area before giving back some gains, representing a test of the 78.6% retracement of the depreciating range from 44775.96 to 34322. After reaching this fresh multi-day high, BTC/USD backed off to the 41743.06 area, representing a test of the 78.6% retracement of the short-term appreciating range from 41560.49 to 42429. Buying pressure recently intensified around the 40130 area, just above the 50% retracement of the broader depreciating range from 45855 to 34322. BTC/USD bulls are eyeing technical levels related to these depreciating ranges, including the 42538, 43133, and 43386 areas.
Stops were recently elected above the 40079.12, 40673.54, 41409, and 41519.83 levels during the move higher, retracement levels related to the depreciating range from 42597.84 to 37560.40. Following the recent move higher, areas of potential technical support and buying pressure include the 37043, 36942, 36789, 36698, 36662, 36444, and 35698 areas. Areas of potential technical resistance and selling pressure include the 48485, 48710, 49121, 49409, 50966, 52059, and 53150 levels. Traders are observing that the 50-bar MA (4-hourly) is bearishly indicating below the 200-bar MA (4-hourly) and above the 100-bar MA (4-hourly). Also, the 50-bar MA (hourly) is bullishly indicating above the 100-bar MA (hourly) and above the 200-bar MA (hourly).
Price activity is nearest the 200-bar MA (4-hourly) at 40124.03 and the 50-bar MA (Hourly) at 41455.05.
Technical Support is expected around 31639.47/ 29514.02/ 27271.02 with Stops expected below.
Technical Resistance is expected around 46600.89/ 47726.76/ 49019.35 with Stops expected above.
On 4-Hourly chart, SlowK is Bullishly above SlowD while MACD is Bullishly above MACDAverage.
On 60-minute chart, SlowK is Bearishly below SlowD while MACD is Bearishly below MACDAverage.
Disclaimer: This trading analysis is provided by a third party, and for informational purposes only. It does not reflect the views of Crypto Daily, nor is it intended to be used as legal, tax, investment, or financial advice.
Post fetched from this article