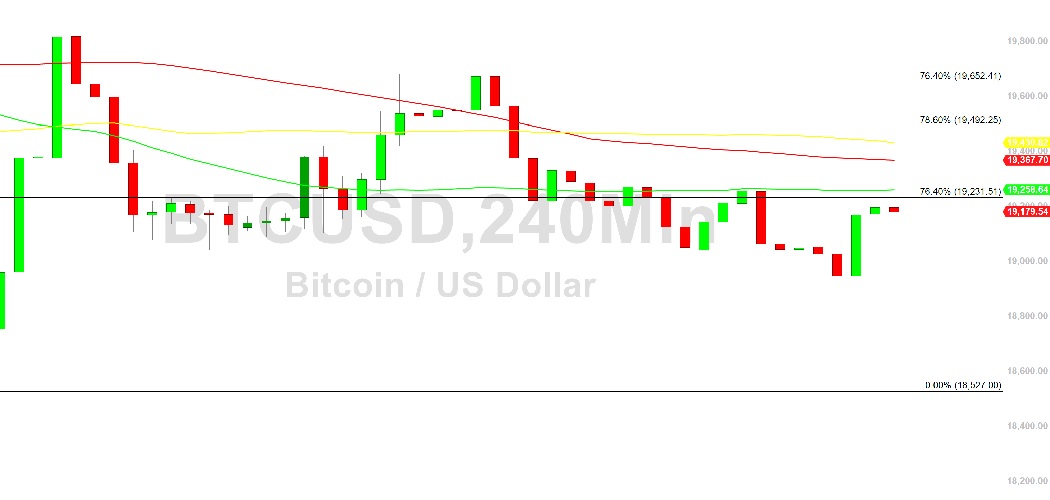 BTC/USD Bears Remain in Control: Sally Ho's Technical Analysis – 23 October 2022
Bitcoin (BTC/USD) experienced additional downside pressure early in the Asian session as the pair remained unable to sustain a break above the 19231.51 area, representing the 76.4% retracement of the historical appreciating range from 3858 to 69000. Bearish technical sentiment intensified when BTC/USD recently failed to sustain a break of the 19914.56 area during a recent move higher, representing the 38.2% retracement of the depreciating range from 22800 to 18131. The recent series of lower peaks has intensified BTC/USD's downside risks with larger Stops accumulating below the 17803, 17701, 16966, and 16503 areas, significant technical levels related to historical upside pressure around the 3858 and 9819 levels. Additional significant technical areas on the downside include the 16990.14, 14500.15, and 10432.73 areas.
Following the ongoing negative sentiment, the 20433 area has emerged as an area of consistent technical resistance that is technically related to selling pressure that commenced around the all-time high of 69000. Additional upside price objectives and areas of potential selling pressure include the 21574, 22433, 23496, 24577, and 25214 areas. Traders are observing that the 50-bar MA (4-hourly) is bearishly indicating below the 100-bar MA (4-hourly) and below the 200-bar MA (4-hourly). Also, the 50-bar MA (hourly) is bearishly indicating below the 100-bar MA (hourly) and above the 200-bar MA (hourly).
Price activity is nearest the 50-bar MA (4-hourly) at 19255.71 and the 200-bar MA (Hourly) at 19249.72.
Technical Support is expected around 16990.14/ 14500.15/ 10432.73 with Stops expected below.
Technical Resistance is expected around 25256.96/ 27455.20/ 32383.96 with Stops expected above.
On 4-Hourly chart, SlowK is Bearishly below SlowD while MACD is Bearishly below MACDAverage.
On 60-minute chart, SlowK is Bullishly above SlowD while MACD is Bullishly above MACDAverage.
Disclaimer: Sally Ho's Technical Analysis is provided by a third party, and for informational purposes only. It does not reflect the views of Crypto Daily, nor is it intended to be used as legal, tax, investment, or financial advice.
Post fetched from this article