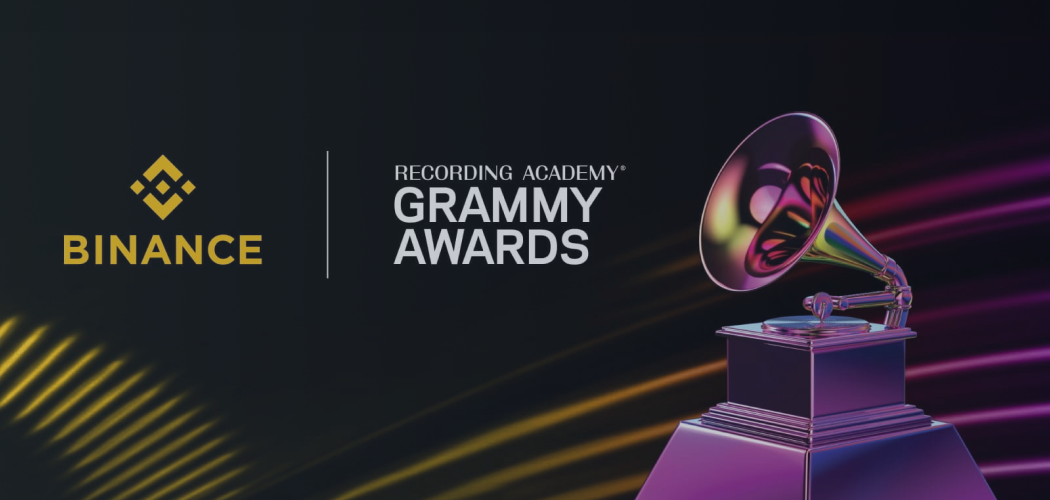 Binance, the world's largest crypto exchange operator in terms of trading volume, has become the first-ever official crypto exchange partner of the Grammy Awards for music.
With the partnership, Binance will be bringing a suite of Web3 technologies and expertise to serve the Grammy's member organizations, as well as shaping up to empower the award show organizer's events and other initiatives.
"We were impressed by the Recording Academy's ability to meet changing demands by its community—this is something we mutually share as a company that puts users and people first. Starting with the GRAMMYs, we are excited to work together with the Recording Academy to bring fresh new experiences powered by blockchain and all the great things Web3 technology can bring to entertainment," shares Binance Co-Founder Yi He.
According to a press release by Binance, the exchange will be sponsoring the 64th Annual GRAMMY Awards® and GRAMMY® Week events, alongside the inaugural Recording Academy Honors celebration.
"As we continue to evolve the Recording Academy for a rapidly changing music industry and for the next generation of creators, we feel that it's important to work with innovative partners to explore new monetization avenues for our members and create new experiences for music fans. As the leading player in the crypto and blockchain space and with its community-focused approach, Binance is the perfect partner for the GRAMMYs and for our mission to empower music people around the world." shares Panos A. Panay, Co-President at the Recording Academy.
The 64th Annual GRAMMY Awards® will be broadcast live on Sunday, April 3, at 8 p.m. ET/5 p.m. PT. from the MGM Grand Garden Arena in Las Vegas, Nevada. The event will be honoring the past year's best musical performances and recordings. The move follows several other big-event crypto sponsorships such as the Super Bowl and Oscars, with Binance also aiming to get a share of the Hollywood spotlight.
Binance will be working together with the Recording Academy to also power its blockchain initiatives through Web3, fusing the latter's entertainment network with its crypto platform. NFTs may be incoming, but Binance has been sparse on the details about this just yet. Notably, the Recording Academy has already had a crypto partnership sometime in November 21, when it partnered with OneOf, an NFT platform based on the Tezos blockchain, strike a three-year deal.
Binance is making strategic inroads into crypto adoption, with the launch of Bifinity, its official fiat-to-crypto payments provider, in a bid to gain more presence among mainstream consumers. The Grammy Awards partnership is just the latest in a slew of strategic moves by the world's largest crypto exchange.Disclaimer: This article is provided for informational purposes only. It is not offered or intended to be used as legal, tax, investment, financial, or other advice.
Post fetched from this article