Binance is the largest cryptocurrency exchange if you consider the volume of trading with an average trading volume of $1.5 billion per day. The platform has become really popular in just three years of its launch but many people are still wondering how to withdraw funds from Binance!
Binance started its journey in 2017 from China and never even looked back once.
To help you out, we have prepared an in-depth guide to show you how to transfer your crypto funds from Binance exchange to digital wallets. We will answer the common questions that people have about Binance withdrawal, and if you are interested in other details about this crypto exchange and many others, start your let with the Binance review on CryptoTotem.
The company was founded by crypto experts Changpeng Zhao with Yi He. Both of them had experience in working in crypto projects and used their expertise to launch Binance.
Binance steadily grew in the number of users and trade volume since its ICO. The platform was able to collect US $15,000,000 by issuing the native Binance coin. Since then, Binance has collected 15 million users and strikes an average per day trading of $2 billion.
However, the company had to move out of China due to the country's cryptocurrency ban. It's now operating from Malta with teams in more than 40 countries. However, the company runs its operations from Malta but is registered in Seychelles and the Cayman Islands.
Investors and traders today trust Binance more than any exchange. The platform is also intuitive and doesn't put users in a fix. You can simply create an account and start trading in more than 180 crypto coins.
Additionally, Binance is popular for its low fees.
Binance Trading Fees
Binance has a simple fee structure for its trading options. To begin with, the platform doesn't differentiate between the "maker or taker" fee for general users. You pay a flat fee of 0.1%, whether you are buying or selling cryptocurrency.
As we said earlier, Binance charges very less fees compared to other platforms. The average industry fee is around 0.25%, and most exchanges charge more than Binance.
Take Coinbase Pro, for example. The platform charges 0.5% fees. Bittrex, another leading exchange, takes 0.2% fees, which is more than Binance.
However, you will find some other exchanges with 0.1% fees, like HitBTC.
Additionally, Binance provides a lot of discounts when you use the Binance Coin or BNB to carry out your trades. You can get a discount maximum of 25% by using Binance.
Apart from trading fees, a few more charges may apply to your trades. You should be aware of the futures funding rate as it changes daily. Another thing to check out is the daily interest rates. They also change every day. You should verify the rates before you trade for accurate fees approximation.
Now, let's take a look at the fees for spot trading options: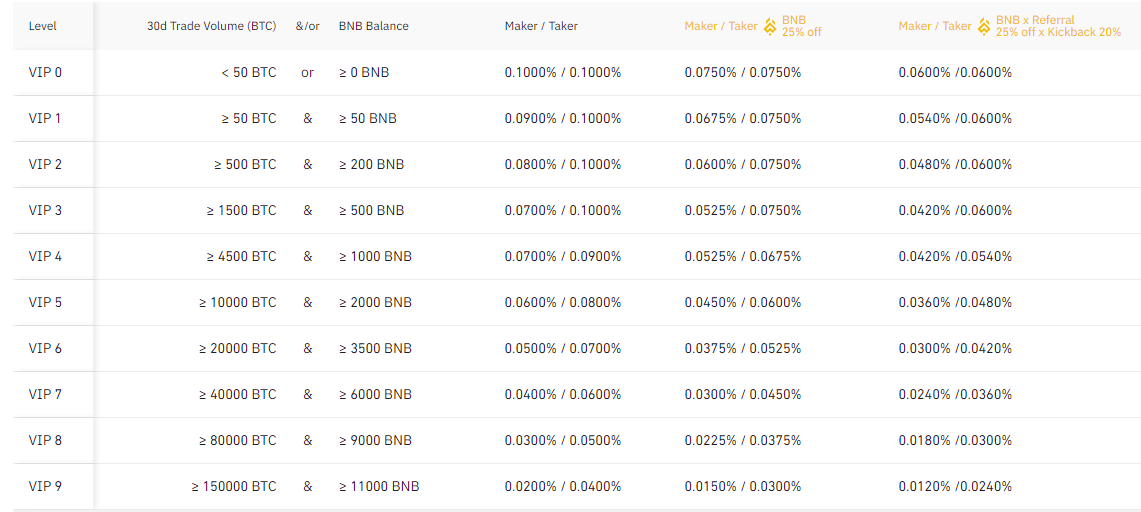 Here is a look at the margin borrow interest rates: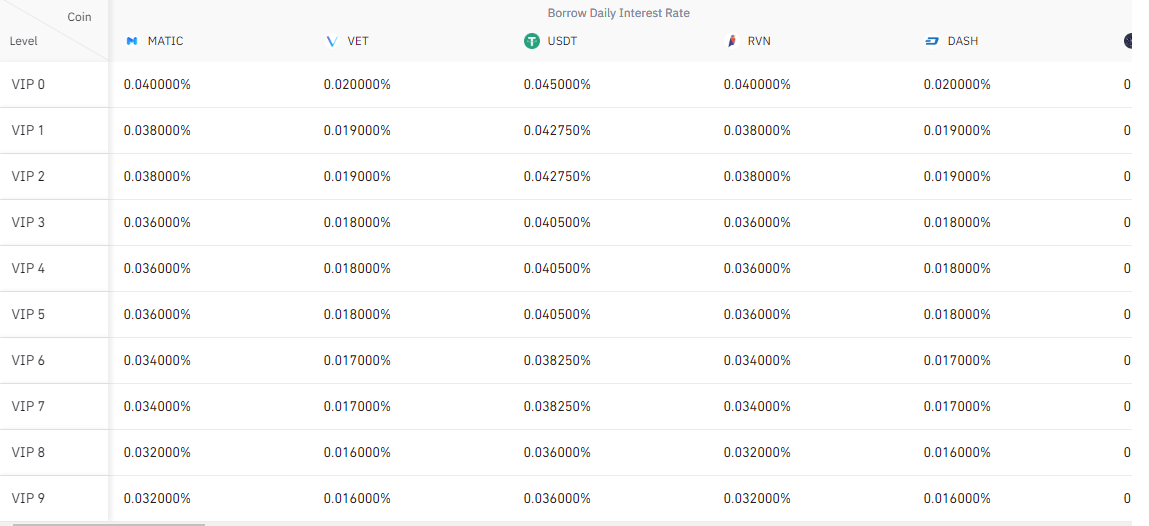 You can also check out the futures trading fee rate for your convenience: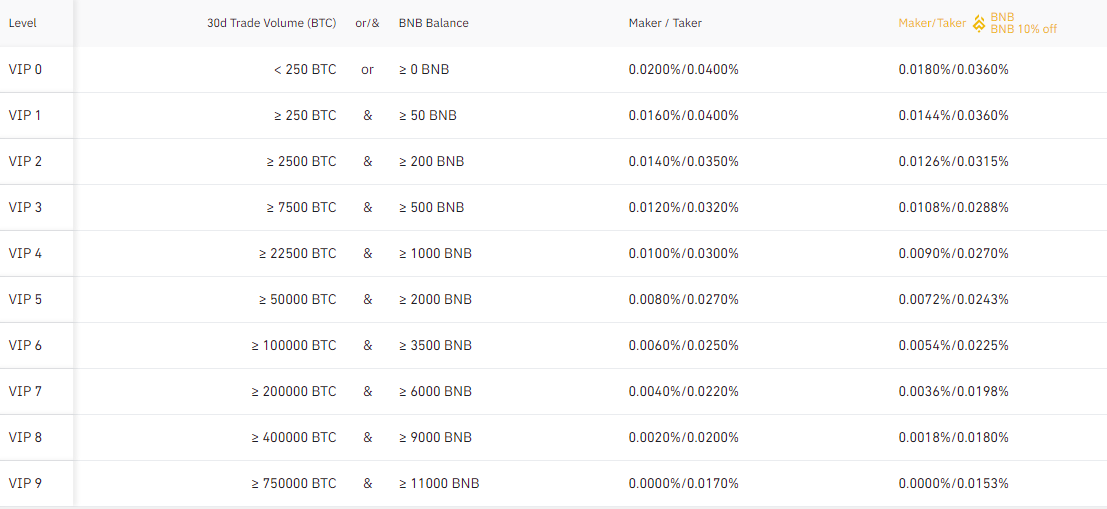 As you can see, the fees are also dependent on your Binance user level. The more you progress along with your ratings, the cheaper the fees will be. For example, the VIP 3 level trading fees are only 0.07% for the maker. You can log into your Binance account to see the applicable fees for your account level.
The best of all, deposits are completely free and don't come with any fees. You can make deposits in any cryptocurrency without paying a single cent
1. Can You Covert Crypto to Cash on Binance Exchange?
Binance is a crypto-to-crypto platform and you cannot cash out your cryptocurrencies for fiat currency like USD or Euro. You can only convert crypto coins to other crypto coins and withdraw them to digital wallets.
Binanace exchange has the following markets:
BTC trading. You can trade Bitcoins for over 100 cryptocurrencies
ALTS trading. Crypto coins like ETH and XRP can be exchanged for other cryptocurrencies
BNB trading. Platform for trading Binance's BNB crypto coins
USD trading. Enables you to trade stablecoins like PAX, TUSD and USDT against other cryptocurrencies
2. How Long does it Take to Withdraw Funds from Binance Exchange?
It takes around thirty minutes to one hour for your withdrawal to be updated on blockchain ledger. You can receive the funds in your chosen wallet after a few minutes of the blockchain update.
Some cryptocurrencies take longer to transfer.
Withdrawal Fees
Binance also has some of the lowest withdrawal fees in the industry. How much you pay depends on the crypto coin you are withdrawing. The fees are different for each crypto coin, and you should verify the fees before making withdrawals.
Let's give you an overview of withdrawal fees for some popular crypto coins. If you want to withdraw BTC, you will have to pay a minimum fee of 0.001%. However, the rates may increase based on whether you're using BEP2, BEP20, or BTC.
Similarly, you pay a 0.000078% fee for withdrawing in ETH using BEP2. In the case of BEP20, Binance takes a fee of 0.0002%.
You cannot directly withdraw fiat currency using your crypto coins on Binance. You will have to use the extension Binance Fiat Gateway that uses other providers for the purpose. You can use more than 40 fiat currencies to trade using the gateway.
Withdrawal charges for fiat transactions vary according to the providers. However, expect to pay more than the 0.1% fee if you plan to use your bank accounts or cards.
Binance's low withdrawal fees make it a suitable platform for investors. You can enjoy reasonable withdrawal fees and minimum withdrawal limits.
Trading View
We will now explore the different trading options and features of Binance.
Binance Margin Trading

Binance introduced margin trading with its 2.0 update. You can access considerable sums of funds provided by other traders and Binance. Margin trading on the platform can award you a three-times leveraged position. As a result, margin trading on Binance is very popular.
The margin trading attracts 0.1% fees that remain unchanged. However, you have to pay a daily interest fee that changes on a daily basis.
You can do margin trading on only selected cryptocurrencies for the moment. All popular crypto coins like BTC and ETH are covered.
Futures Trading
Futures trading is not directly buying or selling or crypto coins. Rather, you buy or sell a futures contract representing a commodity. You can go long or short on your future contract, meaning you can bet on the values to rise or fall, respectively.
Traders can buy futures contracts to go long and sell the contract to go short. In both cases, you can use a leverage of 125x.
The biggest advantage is you can benefit even if the value of your asset decreases.
Binance Options
Binance Options is a great way for option traders to enjoy a high degree of flexibility. The barrier for entry is low, and you can profit big time from your investment. Binance offers American style options trading. That means you can execute your contract whenever you wish before your expiry date. You can enjoy shorter periods of 10 minutes to one day.
Binance Options is favorable for many traders as the investment options are designed specifically to improve the trading experience.
Launchpad
Binance Launchpad is your home to innovative IEOs around the world. The platform allows investors to put their money in unique cryptocurrency projects that provide value.
Investors have a degree of assurance as Binance has approved the projects. You can also save some research work and time to discover the best projects active now.
You need to have the native BNB coins and participate in a lottery that decides who can invest in IEOs first.
The projects on Launchpad provides lucrative ROI on your investments compared to other exchanges.
Binance Savings
You can keep your crypto assets on Binance and earn handsome interests. Binance allows you to go for two methods-
In the case of Flexible Savings, you can earn daily interests and take out your earnings without paying any penalty. However, you may earn more interest with the Locked Savings, where you need to keep your assets for a fixed period.
Binance Savings is a great way to earn some income from your unused crypto assets. However, it's not available in all countries.
Binance Staking
Binance Staking is a suitable option if you want to avoid risks. Here, you need to keep your assets in a crypto wallet to provide backup for the operations of a blockchain network. The amount you can earn will depend on how much you are able to hold in the wallet.
Additionally, a number of other factors will also impact how much you earn. For example, your income depends on inflation rates and the total coins staked on the network.
Binance Debit Card
Binance has introduced a crypto debit card to make online and offline purchases. You can use the card to buy things just like you use your debit card issued by the bank. Here, the debit card is issued by Binance and accepted in 200 regions across the world. You can also pay more than 46 million businesses using your Binance card.
You can top-up your card anytime using BTC or BNB from your app. The process is easy and really hassle-free.
Binance Crypto Loans
Investors can use Binance Lending to lend crypto funds to margin traders and earn interest. You can take advantage of Fixed Deposits and Flexible Deposits to grow your income.
Fixed Deposits have a fixed lending period, after which you get your interest. Flexible Deposits let you withdraw funds any time you want but come with lower interest rates.
Binance Lending is a good option to generate passive income with no risks involved. Binance will protect your investments.
Binance Chain and Binance Coin (BNB)
Binance Chain is the native blockchain for the Binance platform. It supports Binance DEX and is developed by the Binance community. It offers a decentralized marketplace for trading in cryptocurrencies.
Binance coin or BNB is the native coin of the platform. It's based on Ethereum, and you can get discounts by paying your fees using this coin on Binance. BNB was issued during Binance's ICO in 2017.
Additional Services and Exchanges
Binance US and other localized versions: Binance has introduced local versions for various regions to help local investors. You can access several localized versions that also include a US platform.
Binance Jersey: It's a platform for exchanging fiat to cryptocurrency in Jersey. The Jersey Financial Services Commission regulates the platform.
Binance DEX: DEX is a decentralized platform for matching orders. You can create your wallet and start exchanging tokens.
Binance JEX: Binance Jex is a platform to do your futures trading. You can enjoy even a 100x leverage.
Binance Futures: You can use the platform for futures trading with long and short deals.
Binance P2P: It lets you trade your crypto coins with your local fiat currency. You have an escrow to protect your investments.
Binance OTC Trading Portal: OTC is ideal for big trades. It's suitable for conducting large block trades.
Binance Fiat Gateway: Uses third-party providers to enable fiat and crypto trading.
Binance USD (BUSD) and Binance GBP stablecoin: Both are stablecoins introduced for the US and the UK market. BUSD is approved by the New York State Department of Financial Services (NYDFS).
Binance Academy: Contains resources to learn about Binance and crypto trading.
Binance Charity: Charity done by Binance with crypto donations.
Binance Info: Binance Info is your place to know the latest market data and investment options.
Binance Labs: Aims to strengthen the crypto ecosystem by helping crypto projects and entrepreneurs.
Binance Research: The research wing of Binance to provide meaningful insights to investors.
Trust Wallet: A decentralized wallet to hold your crypto assets.
Binance Cloud: Cloud solutions from Binance to launch crypto exchanges.
Binance Card: Crypto card issued by Binance for online and offline transactions.
Supported Countries
Binance is now available in more than 180 countries across the world. Investors from all major regions like the US will be able to use Binance to trade cryptos. It's also available in countries like India and Sudan.
Do remember to check if your country is supported before you join Binance. Additionally, not all services are available in all regions.
Supported Cryptocurrencies
Binance supports hundreds of cryptocurrencies, including all the popular ones you can think of. Moreover, you will also find unique and uncommon coins. Binance is an exchange that supports the most promising crypto coins.
However, the platform also removes coins that don't qualify to be on the exchange.
How to Trade on Binance
Binance makes it easy for traders to trade in cryptocurrencies. You don't need to have years of experience to trade on Binance. Novice traders can use the "Basic" version of trading to avoid hassles. For advanced users, the advanced trading option is suitable.

You can start exchanging crypto coins by logging into your account. You need to choose the type of trading you want to do by selecting the "Exchange" option. You can then get access to countless pairs of crypto coins to choose from. Here, you can also decide how much you want to trade and in what way.
Local traders can use the localized versions of Binance to trade. You can also use your mobile apps if you wish.
Traders can also use various ways to manage their trading. For example, you can use Stop Loss Orders to limit your risks. Binance also allows you to use the Stop Market Order. It will help you use the stop price as the trigger to control your trading.
Deposit and Withdrawal Methods

You can deposit crypto coins to find your wallets on Binance. Sign in to your account and link your wallet to deposit your funds. You don't have to pay any deposit fees as long as you use cryptocurrency.
Binance also accepts deposits in fiat currencies through its third-party providers. But you need to pay deposit fees that vary based on the provider you choose. Expect to pay anything between 1% to 7% when you deposit using fiat currencies.
Making withdrawals is also very simple on Binance. You can link your wallet to withdraw funds in crypto coins. The fees we mentioned above will be applicable for withdrawals. You will be able to make fiat withdrawals using the third-party providers. As usual, the withdrawal fees will vary from one provider to another.
Do note that fiat deposits and withdrawals are not available in all countries.
Mobile, Desktop Apps, and APIs
You can download Binace apps for your mobiles and desktops. For computers, you can get Binance apps for both Windows and Mac systems. The mobile apps are also available for iOS and Android.
Binance also provides an API to automate your trading using various programming languages like Python. You can use all of them without any hassles.
Creating Your Account and Verification
Let's find out how you can create an account on Binance to start trading in minutes!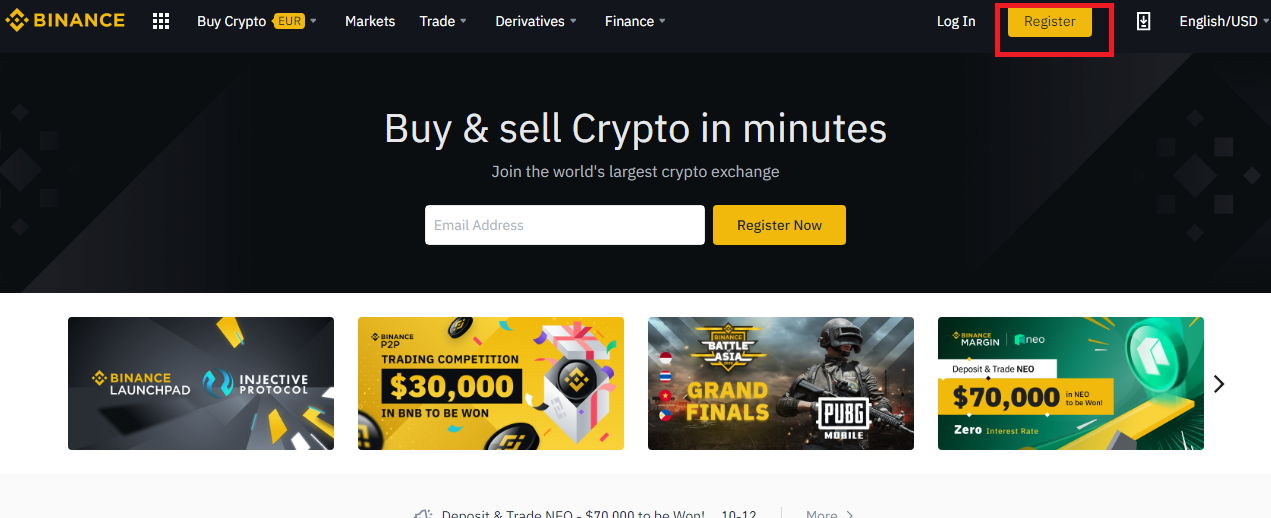 The first step of the process is to register yourself on Binance. You will easily find the link on top of the webpage. You will need to provide your email address and create a password. Then you should verify your registration using the email you receive.
We suggest you set up the two-factor authentication or 2FA. This will secure your account and prevent unauthorized access. You will be able to log in only after you provide the code sent by Binance to your email or mobile.
After that, you can go ahead and fund your account. We have told you how to deposit funds, so follow the instructions.
You will be able to start trading once you verify your account using the email. However, you will need to submit your KYC details for some trading options. You may have to give your KYC even for taking advantage of fiat transactions.
How Secure is Binance
The sheer volume of trades on Binance makes it a target for cybercriminals. The platform was hacked in May 2019, after which the site has taken several steps to make it more secure. Binance uses AI and advanced technologies to protect traders. It also uses a Universal 2nd Factor (U2F) authentication technique to prevent compromises.
Additionally, you can also stay safe by using various methods like two-factor authentication (2FA). Users can also use SMS for authentication purposes. Binance even allows users to use anti-phishing codes for maximum security.
Binance also has the Secure Asset Fund for Users (SAFU) program to protect traders. Any loss faced by investors will be reimbursed by Binance, using 10% of its profits.
Binance is one of the most secure exchanges that take security seriously. It also has a responsiveness customer care to help you instantly, 24/7, to resolve your queries.
Final Thoughts
Binance is undoubtedly one of the best exchanges for trading in cryptocurrencies. Even novice traders can join the platform and start trading quickly. You can enjoy hundreds of crypto pairs and benefit from multiple trading options. The platform is also secure and protects traders through various programs. If you want to trade in crypto coins, Binance can be a good place to start. It's, after all, the largest exchange on the planet.
Pros
User-friendly and intuitive
Dedicated 24/7 customer support
Multiple trading options
Over 180 crypto coins supported
Available in 180 countries
Fiat exchanges available
Low fees with free deposits
Strong security protocols
Cons
A little confusing for beginners
No native support for fiat trading
Post fetched from this article