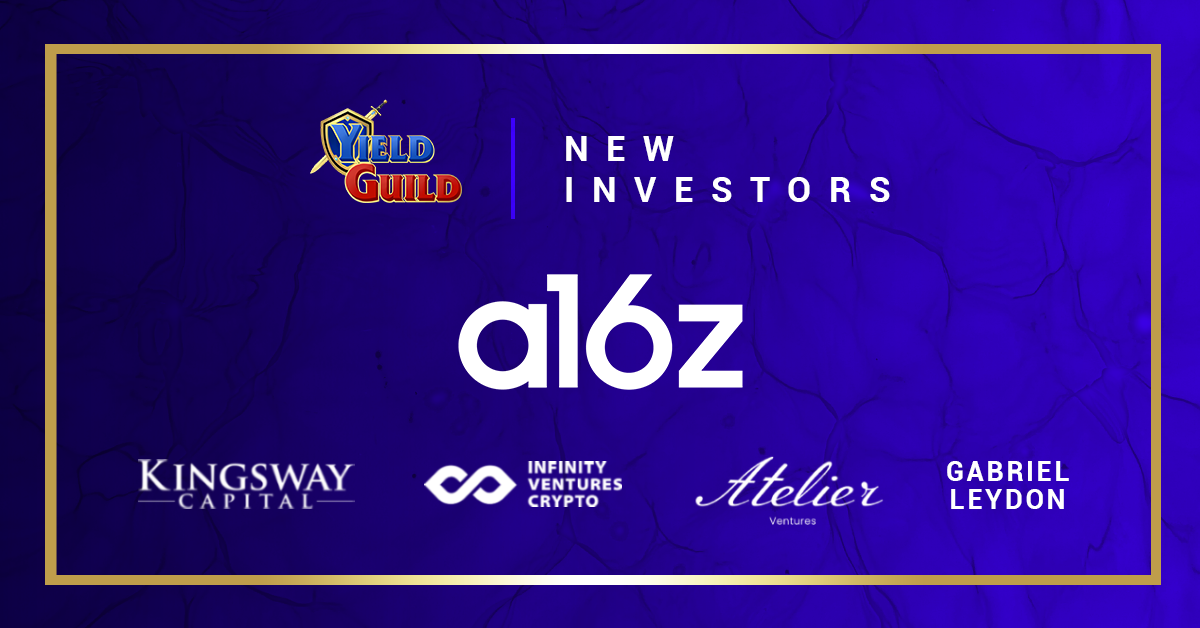 AH Capital Management, L.L.C. (Andreessen Horowitz/a16z), a venture capital firm working in the crypto sector, recently announced its latest investment with Yield Guild Games, a decentralized autonomous organization (DAO) for investing in non-fungible tokens (NFTs) used in virtual worlds and blockchain-based games.
The investment round raised $4.6 million in new funding from Andreessen Horowitz and a number of investors intersecting in the crypto and gaming industry. The investment round included participation by Kingsway Capital, Infinity Ventures Crypto, Atelier Ventures, and Gabriel Leydon, who was a co-founder and former CEO of Palo Alto-based mobile game development firm Machine Zone, Inc. Finalized in late July, the new round follows Yield Guild Games' $4 million Series A earlier in June, which was led by BITKRAFT Ventures, a gaming-focused venture capital firm.
Yield Guild Games is a decentralized autonomous organization (DAO) co-founded by Filipino entrepreneur Gabby Dizon (CEO), Beryl Li (CFO), and Owl of Moistness (CTO). The DAO is focused on developing and implementing play-to-earn business models in crypto games such as Axie Infinity. It's CEO, Dizon, has been working in the mobile gaming industry since 2004, and began ventures in the blockchain space by 2018. Dizon is also the founder of Manila-based game studio Altitude Games, which released the Battle Racers blockchain game in 2019. Dizon is a board member of the Blockchain Game Alliance.
The DAO's CFO, Li, has been working in the blockchain space since 2014 and was Cambridge University Alumna and President of Cryptocurrency Society in 2016. She is also FX Quants GCP at BlackRock Asset Management, and has held the position of Entrepreneur In Residence at Coins.ph, a major Philippine cryptocurrency exchange and payments platform that was acquired by GoJek for $72 million in 2019. The third co-founder, Owl of Moistness, remains pseudo-anonymous, and serves as the DAO's CTO.
Yield Guild Games is known in the crypto space for its Axie Infinity "scholarship" program, in which NFT assets are loaned out to new players under a profit-sharing program. Axie Infinity has seen a surge in its growth, with its native token, $AXS, crossing $1 billion in all-time volume earlier this month. Developed by Sky Mavis, Axie Infinity has taken the blockchain gaming sector by storm. According to an industry report by the Blockchain Game Alliance, the NFT game recorded over $780 million in sales across 1.4 million transactions.
"What first stood out to us about the YGG team was their passion for creating the biggest virtual economy in the world in order to improve the lives of more people in more places." said Arianna Simpson, General Partner at Andreessen Horowitz. "Their commitment to this community is at the heart of YGG's phenomenal growth. For most scholars, crypto presents unparalleled economic opportunities and YGG will be the scholars' trusted partner."
Sky Mavis's Axie Infinity project experienced a surge in both user growth and token price after the launch of Ronin, a sidechain that it has developed to optimize defaulting fees and the impact of Ethereum's gas fees and transaction time. Axie Infinity's native governance token, $AXS, is now trading at over $72 per token. It was trading at about $0.5 at the onset of 2021, and has grown over thrice in just a month, trading at around $20 a month prior to hitting its current all-time high.
Disclaimer: This article is provided for informational purposes only. It is not offered or intended to be used as legal, tax, investment, financial, or other advice.
Post fetched from this article