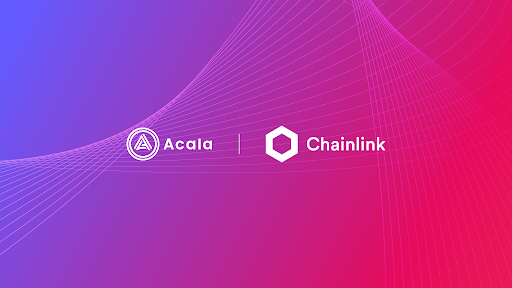 To provide developers and its DeFi ecosystem with tamper-proof, hyper-reliable, and precise market data from numerous external sources directly on-chain, Acala, the multi-chain DeFi hub for Polkadot, has integrated Chainlink Price Feeds.
This integration allows developers building their products and services on top of the Acala parachain to use readily available real-time data to build secure DeFi applications and products across numerous use cases, such as derivatives, lending, stablecoins, and many more.
Per the official announcement, this integration was made possible by the recent launch of a Chainlink Oracle Pallet. This Substrate-based oracle pallet allows all projects built on Polkadot, its parachains, and substrate chains to integrate Chainlink oracles via plug-and-play runtime modules natively.
Oracles To Bring Verified External Data On-Chain For Acala
Like any other blockchain, Polkadot requires secure, reliable, and accurate external data sources to allow dApps to access real-time data available off-chain. In general, blockchain networks can't natively access off-chain data. Therefore, they require a blockchain oracle to fetch, aggregate, validate, and deliver data to on-chain protocols. The oracle mechanism must meet the same security standards as the underlying blockchain network to supply accurate data in a supported format.
Founded in 2019, Acala has received exceptional support from the blockchain community, including five Web3 Foundation grants and backing from some of the most prominent venture capital funds and investors, like Pantera Capital, Coinbase Ventures, Polychain Capital, and several others.
Acala serves as an application layer offering a range of DeFi products and services and supplies infrastructure to meet dApp developers' demands. These offerings include but aren't limited to a multi-collateralized algorithmic stablecoin aUSD, the automated market maker (AMM) decentralized exchange (DEX) Acala Swap, and its trustless staking derivative called Liquid Dot (LDOT). To power these features and services, the Acala ecosystem needs oracle pallets.
The Chainlink platform is currently the most prominent oracle network for hybrid smart contracts across decentralized finance (DeFi), insurance, gaming, and other budding use cases. Developers using Chainlink Price Feeds to build DeFi applications will benefit from Chainlink's growing network effect, which features extensive market coverage, decentralized oracle infrastructure, and robust oracle security for a minimal cost.
Acala and Chainlink have closely collaborated across the integration validation, testing, and auditing to assure a secure and stable deliverable. With the Oracle Pallet now in place, developers can quickly incorporate the plug-and-play module within their dApps from the first day of Acala's launch on the Polkadot network.
With the Chainlink Oracle Pallet, Acala developers gain an easy-to-integrate price oracle solution, alongside strong assurances that their application will execute accurately. Moreover, they can share the expense of existing Price Feeds or develop new ones based on existing frameworks. Either way, the integration of Chainlink Price Feeds paves the way for developers to leverage direct on-chain access to numerous pre-validated data feeds, thus eliminating the need to invest extra time, effort, and resources to build individual oracle solutions.
Disclaimer: This article is provided for informational purposes only. It is not offered or intended to be used as legal, tax, investment, financial, or other advice.
Post fetched from this article